Pizzeria until summersaison closed   TAKEAWAY .   DELIVERY WITH ORDER OVER 750 CZK, FREE OF CHARGE IN SPINDLERUV MLYN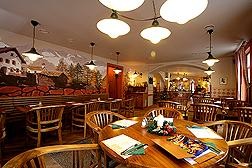 Under the direction of our chef, Sig. Pasquale Valle of Campagna, we offer you a choice from the very best of Italian cuisine: pastas, risottos, fish, and meats, but above all, pizza - freshly baked to original recipes in our authentic wood-fired oven in the restaurant.
Sit back, relax and enjoy your selection from our excellent range of Czech and international wines, or savour a rich cup of the best Illy coffee.